Scalable Social Media Achieves National Recognition as one of the Top Twenty Small Businesses in America, for Its Impressive Social Media Results
Scalable Social Media, a social media marketing agency, has been awarded the "Social Houdini" award in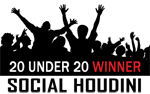 the 20 Under 20 Awards, the First Annual BuyerZone Review which honors the most impressive small businesses in America. BuyerZone, an online small business resource center, awarded Scalable Social Media for its impressive results in increasing social media engagement for its clients.In the 20 Under 20 Awards, BuyerZone reviews Scalable Social Media as "one of today's best solutions for companies that are finding it incredibly difficult to get started…on social media platforms." BuyerZone also highlights the company's "easy-to-use platform" that helps its clients be social, even with very little technical know-how.
In addition to publicly honoring the twenty most outstanding small businesses in America, the 20 Under 20 Awards are meant to highlight businesses that exemplify today's ideal small business values.
These small business values include: 
•   The focus on collaboration and teamwork
•   The ability to welcome innovation and change
•   The ability to reserve a portion of time and resources for community and nonprofit work
•   The shared goal of creating results
About Scalable Social Media
Scalable Social Media helps businesses, and franchise owners in particular, find and project their Social Media voice. If you can send an Email, your business can go social.
About BuyerZone
Since 1992, BuyerZone has helped over 3 million small businesses save money and buy smarter for their businesses by providing a quick way to compare prices and companies. BuyerZone's lead generation programs have helped over 8,500 different companies find ready-to-buy customers that are actively searching for their products and services. BuyerZone is a division of Reed Business Information.
About the 20 Under 20 Awards
The BuyerZone 20 Under 20 Awards were released in March 2012 on BuyerZone.com, to coincide with the company's twentieth year of operation since being founded in 1992 by its current President, Mie-Yun Lee. Award winners were nominated by the public, then reviewed and selected by BuyerZone editorial staff. Winners were chosen for their impressive work in categories such as: customer service, innovation, results, community work, philanthropy, customer engagement, business strategy, and originality.